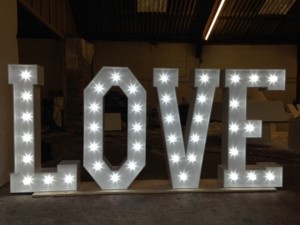 1.20m Free-standing wireless retro light up letters  – Love at first light
We were commissioned to create 4 free-standing light up letters spelling love. Constructed from exterior plywood. Primed and spray – painted to a glossy white finish. We installed large led fairground light bulbs which gave a stunning reflection against the glossy white. Each letter is individually powered by high capacity re-chargeable batteries and  an individual switch for each letter.
To make a booking contact Love at first sight here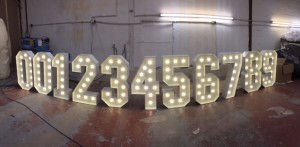 1m freestanding wireless  – Retro light up numbers
We were commissioned to create 11 1m light up numbers. We constructed the numbers from exterior ply wood, primered and top coat spray painted white. We installed warm retro led light bulbs. The numbers are all connected to high capacity re-chargeable batteries giving our client more freedom with positioning + no cable trip hazards! Project was custom made and delivered to our client in Surrey.
The illuminated  numbers are available to hire by our client
here www.lightyearshire.co.uk or contact  directly at info@lightyearshire.co.uk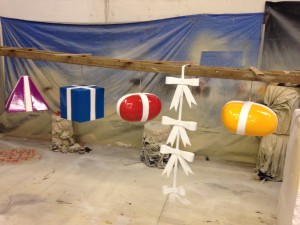 Custom present props – Special display for Exhibition
We were commissioned to create presents according client's specification. The presents main shape was hand carved out of EPS. Once the desired surface texture was achieved we spray applied hard coating polyurethane. the presents were primed then spray painted according to desired colours. Ribbon and bow effect created from an  aluminium strip. Tags created from aluminium with vinyl application.
EE's Charging Bull – Presentation Design Services – Glastonbury Festival 
We were commissioned by Presentation Design Services to create the bull. The sculpture had to be water- proof, extremely durable and friendly looking. The bull was hand carved out of high density polystyrene. Steel rods inserted within the tail  for extra strength and timber blocks within hoofs for installation system. As the sculpture had to be weather proof we applied flexible coating polyurea and primered in order to prepare for a paintable surface.
Final finish was completed by PDS to  their clients  specification.
We are very proud to have completed this project at a very tight time schedule and have completed within a week! Just in  time for our client  to apply final finish.
Giant Paint trays – Don't Panic London
We created 3 giant paint trays together with marketing agency Don't Panic London. To use as visually exciting and creative props at an anniversary event In London.   The Trays were made out of ply wood, primered then  spray painted black with a rubbery boot washer in the side section.
Watch the props in action https://youtu.be/Z-NQG-5ED2M
Buzz Light Year – Marbel – size 1.50m
We scaled up a tiny model to create a life-size version  of Buzz light year for Marbel Toys Ltd to use as a prop at their exhibition stand.
This giant 3D model was hand carved out of polystyrene, sanded to a smooth surface.
Weights installed within the model to ensure stability. Application of hard coating polyurethane. Extra sanding for a glossy finish. Airbrushed up to detail according to Buzz light years original colors.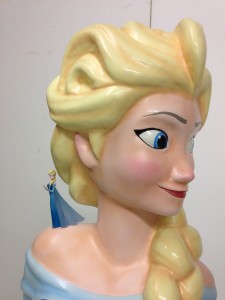 Disney's Elsa from Frozen – Marbel Toys Ltd
We were commissioned by Marbel toys to create a 1.50m in height version of their miniature model of Elsa to use at their exhibition stand. The model was carved out of high density polystyrene proportionally. A stainless  steel pin was fitted within her arm and finger for extra strength, with a plywood base at the bottom of the model for extra support. After sanding to smooth surface in preparation, FR polyurethane coating was spray applied. The sculpture was then spray painted with a primer. Once dry we airbrushed the colors and tones with HQ paints according to miniature of Elsa. As a finish we gave the model some shading with airbrush for a better effect.
Freestanding Light up Letters –  Something Borrowed  Wed & Hire co
We have collaborated with Something borrowed  wed and hire to create approx  1m high light  up giant letters to use at events and weddings. We constructed the giant letters from  9mm exterior  plywood hand crafted each letter to precision, we spray painted to a brilliant HQ glossy white.  Then we installed led fairground lights which give a sparkling vintage effect with low energy consumption. Each letter is individually battery powered with a high capacity to enable practicality at events and give much more freedom to position the letters in the desired suitable place, this also make it much safer with no trip hazards! The letters  available for hire, for more information  or to book  get in touch with https://www.facebook.com/LoveLightsInfo?ref=hl
Icon Cubes – Cornwall Council
Acrylic custom made icon cubes were made to use as  Props for ERDF Convergence Legacy Film and for many events to come. The 6  cubes each measuring at  25cm and 50cm in height  were constructed from opaque thick acrylic, made to last. The icons have a removable base.  On each  side displaying icons printed on to clear HQ vinyl.
Polystyrene clouds – The Neighbourhood  restaurant & bar Manchester 
We were commissioned by The Neighbourhood restaurant & bar in Manchester to create 6 clouds to be suspended from the ceiling for their let it "Let it rain champagne " event. Each cloud was individually hand carved from polystyrene  for a more realistic effect.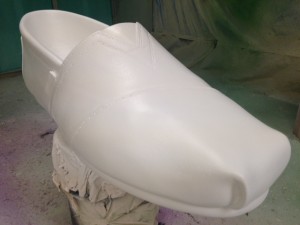 Giant classic Tom's shoe  –   Tom's UK
We were commissioned by Tom's shoe UK to scale up one of their classic shoes. To be used at their customize your sole events all across the UK. We hand-carved the shoe according to the life size version. After shaping and preparation we spray applied flexible coating polyurea which makes the end product weather proof + extremely durable. This coating also has a rubbery texture making the surface even more so realistic. After coating application we we primed and spray  painted the giant shoe white ready for our clients artist to customize as they wish.
Interactive oil drum puzzle – Mad Science – Size 88cm x 60cm Ø
We were commissioned by Mad Science to create an interactive, light weight & child friendly oil drum to use at their oil week workshop.The oil drum is carved out of polystyrene, sliced accordingly for the puzzle. Coated with polyurethane hard coating. Sanded to a smooth and glossy surface then painted and airbrushed to the desired effect. Velcro applied in between each slice to make a good fit when assembling the stacking puzzle. To finish vinyl applied according to our clients request.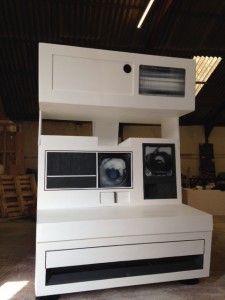 Giant Polaroid camera – Goal agency ltd
We were commissioned by Goal agency to create a giant Polaroid carapace to be used by Goal as a photo booth at festivals and events. We scaled up the Polaroid camera they supplied us keeping the proportions as close as possible. The giant Polaroid was made from exterior plywood and a combination of materials such as perspex. The camera is built in 3 sections of easier transport also it has 2 lockable doors to keep the technical equipment by Goal. The camera was primed and spray painted white.
1m high Custom light up letters –  A little  Je Ne Sais Quoi
We were commissioned by the events planner Je ne sais quoi to create the custom letters for her clients wedding.
The letters were constructed by hand using exterior plywood, retro fairground led light bubs, high capacity batteries for more freedom with postionin.
Primed and spray painted white as a finish.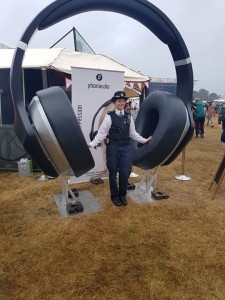 3m high headphones replica – Phonaudio
We were commissioned by phonaudio who create luxury headphones with maximum comfort & the ultimate sound experience to create 3m high replica of the phonaudio headphones. We used a combination of materials to achieve a realistic and durable giant version of the head phones. materials we used to create include, exterior ply wood, EPS, aluminium, soft foam, up holstered pu leather, fr coating polyurea all finished to a high spec.
The head phones will be used as special display with a wow factor   at phoanudios events, music festivals.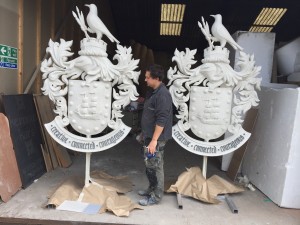 Crests – Falmouth university
We were commissioned by Falmouth university to create the free standing crests to be used at their graduation event. The crests were hand carved from PU foam coated with Polyurea, sanded + stone effect decoration and paint. The  stands are custom made aluminium structure which are adjustable.

The PLB Group – The American Tourister giant suit case.
We were commissioned by the PLB group to create the scaled-up version of the suit case for their product launches across the UK. The giant suit case measuring at 2.5m high had to be realistic as possible. The replica was created from a combination of materials including EPS, CNC cut elements, FR polyurea coating, primer and spray paint + all details to make it look authentic.