Babybel Buddie models – Production process
Brief:  We were commissioned by Inition London to scale up 3d models Frosty and Drac. The models had to be as close as possible to real design with a babybel cheese shaped head. The models had to be of high quality, glossy and smooth. Each model included a base for stability.
Step 1: We had the main shape of the models and the base CNC cut out of high density polystyrene.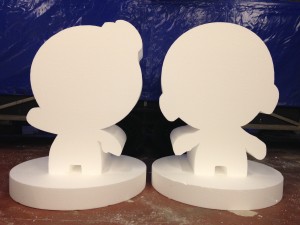 Next we hand carved the polystyrene models according to design and sanded to a smooth surface. We installed 2 aluminum square sections within the base, for the models to slot into later. This insured stability and extra strength. At the bottom of the bases we fitted a ply wood base.                                 
Step 2: After preparation and sanding we applied FR hard coating polyurethane. This will make the models waterproof and durable. Because of the high tech performance of the spray applied coating we were able to primer the models within minutes!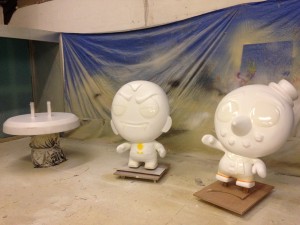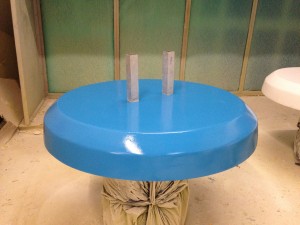 Final Step:  Once the models were primered and plinths had their base color we moved on to the exciting stage! We airbrushed and decorated the models according to supplied design and color numbers with HQ 2k paints. As a finish we applied vinyl onto the bases. Check out images of results!
Get in touch today to discuss your ideas & to see how we can help you achieve your concept at info@ica-creation.sps-creativedesign.co.uk   or call us on 0044 (0)1872- 271275