3d Outdoor advertising & window display
Giant Hand – Surreal advertising installation
We created this giant hand as an alternative to traditional advertizing  techniques. We hand carved the giant hand out of polystyrene. Within the base of the hand we installed a galvinised steel stand. Surface preperation work then hard coating polurethane application to make the project  extremely durable and waterproof. Spray  painted and airbrushed to realistic colours.
The giant  advertising tool is available to hire get in touch for more details.
Giant Cornish Pasty – Prima Bakeries – Size 5m x 2m
We created a giant pasty with a stand & installation for a trailer. We were commissioned by leading Cornish bakery Prima Bakeries. We created this giant prop carved and sculpted out of low density polystyrene, then we fitted a steel support system & galvanized steel stand for stability. Hard coating polyurethane, application for durability and to make it waterproof. To finish we applied primer paint & airbrush decoration for a realistic effect.
Giant letter "i" Free standing sign – Kingston University – Size 1.90m
We created the giant letter sign for Kingston University to use and to make an information point more visible and eye catching. Carved by hand out of polystyrene. Any imperfections sanded. Transparent acrylic strip fitted in between the letter and dot. Concrete weight support fitted at the bottom of the letter for stability. Application of Hard coating polyurethane to ensure the letter will be waterproof and will last. As a finish the giant letter was spray painted with the desired colour number.
3d Pasty shopfront signage –  Prima Bakeries
We were commisioned by Prima Bakeries to create an over sized pasty for their shopfront.The pasty had to look as realistic as possible. Pasty shape was hand carved out of polystyrene, sanding and preperation work. We then spray applied hard coating polyurethane to ensure pasty is waterproof and extremely durable. Project was spray painted and airbrushed to create realistic effect.
Giant Marmite lid – Splendid Communications – Size 1.70m Ø
We were commissioned by Splendid Communications to produce a giant Marmite lid to use at their Marmite fan campaign.This fun and unique prop was carved out of polystyrene, a layer of hard coating polyurethane was applied. To finish, airbrushed to replicate the real Marmite lid.
 Giant 3d pasty signage
We were commissioned to create an over sized pasty to be used as an eye-catching signage for a shop front. Hand carved and crimped! from EPS, sanding in preparation for coating. We applied hard coating application polyurea to make durable, waterproof + easy to maintain. We applied a basecoat and spraypainted top coat colour & airbrush decoration for realistic finish.
Bespoke window display – Linda Farrow
We were commissioned by luxury eye-wear designer Linda Farrow to create a bespoke window display in conjunction to the new Chinese year. The shapes   were CNC cut of high density polystyrene. Weight support installed in some sections for weight support + fixing system in order to suspend 2 sections from the ceiling.  Sanding and preparation work. We then spray applied hard coating polyurea  to ensure all elements are waterproof and extremely durable. Project was spray painted with a primer then top coat with a metallic golden  paint. As a finish we spray applied a layer of clear coat for protection and extra shine.
3m high headphones replica – Phonaudio
We were commissioned by phonaudio who create luxury headphones with maximum comfort & the ultimate sound experience to create 3m high replica of the phonaudio headphones. We used a combination of materials to achieve a realistic and durable giant version of the head phones. materials we used to create include, exterior ply wood, EPS, aluminium, soft foam, up holstered pu leather, fr coating polyurea all finished to a high spec.
The head phones will be used as special display with a wow factor   at phoanudios events, music festivals.
View our blog post with more images!
1.5m high replica of Marc Jacobs  lipstick & lip-gloss – Practical minds
We were commissioned by Practical minds to scale up the lipstick and lip-gloss from Marc Jacob's up to 1.5 m high, to be used as elements for special display.
We used a combination of materials to achieve a realistic look whilst being hard  wearing. The materials we used include stainless steel, polystyrene, fibre glass, wood, acrylic, spray paint. Both elements were created by hand and finished to a high spec.
Bespoke Mannequin hand with moving wooden elements – Practical minds Ltd
We were commissioned by Practical Minds Ltd to create a bespoke piece for special window display for the  incredible fashion designer Karl Lagerfeld.                              We created an over sized mannequin hand with movable fingers, and chrome effect studs.
The hand was made from a combination of materials, for the finger tips and base we used beech wood and the palm was carved from EPS, coated with FR polyurea and spray painted black. We created an inner structure to make the fingers position adjustable like a mannequin. The studs were created with a wood turner and then spray painted to a chrome effect.
Check out our blog to have a look at some images of process and completion!
Large Celtic cross 3d signage –   Kernow Kars
We worked with Kernow kars in Penryn to create the bespoke eye catching signage. The project was achieved using a combination of materials and techniques. Such as CNC cut ply, eps, aluminium, coating polyurea
Finish decoration with sand and hand painted to recreate a stone effect.
For the lighting section of the Celtic cross acrylic + led lighting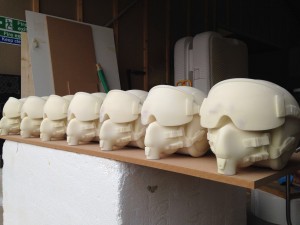 Jet pilot helmets with air feed – Practical minds
We were commissioned by Practical  minds to manufacture these helmets to be used for special display. Practical minds provided us with the 3d printed prototype. Once the mould was taken we produced 9 helmets in total. Ready to be painted and decorated by Practical minds.
HEMA – 1m Dutch clogs
We were commissioned by HEMA retail store to create the over sized Dutch clogs to promote their new store in London. HEMA retail brand originates from Holland. The main shape of the clogs were hand carved. Coated with impact and water resistant coating polyurea. The clogs were then primed and spray pained to bright red. As a finish vinyl application of the branding. The quirky clogs will be used as a special display and great photo opportunity at the opening of their new store in London.
N20 – Diet Coke letters
We were commissioned by N20 agency to create the custom letters.
The letters were cut out of polystyrene and connected together. We applied FR polyurea on to the letters followed by sanding to smooth and prep for primer. The letters were spray painted to requested to bright and fresh top coat colours. We letters were mounted on a thin base for practicality.
Linda Farrow – Life is a circus themed  window display
We were commissioned by Linda Farrow to create the custom themed elements.
The project includes a combination element such as:  custom pattern shapes, pattern flooring, venetian style Perspex panels, aluminium poster boards, pattern painted plinths.
All patterns are make and spray painted by hand. The custom props are to be displayed in various Linda farrow stores  in London, Miami & New York