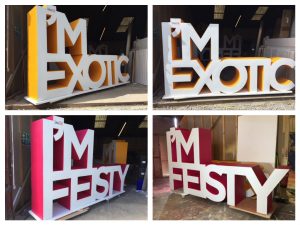 N20 – Giant Diet coke letters
We worked with N20 agency to create the custom letters. The large 3d letters were cut out of EPS and connected together. We applied FR polyurea (water & impact resistant coating )on to the letters followed by sanding to smooth and prep for primer. The letters were spray painted to requested to bright and fresh top coat colours. We letters were mounted on a thin base for practicality.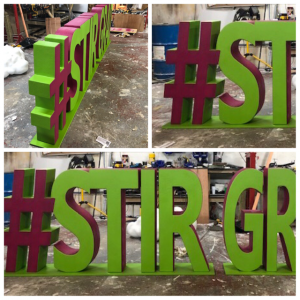 Large 3d letters –  Graduation prop Stirling university
We CNC cut the large 3d letters #STIRGRAD from polystyrene, coated with FR polyurea which is both water & impact resistant coating. The letters have a discreet base which is also coated with the waterproof coating.
Once coated and sanded the letters were primed & spray painted to the universities chosen  branding colours. As well as creating the letters we can also prepare the file for CNC cutting.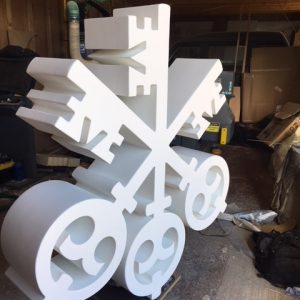 3d UBS group logo – PDS
We were commissioned  by PDS to create the 3d logo to be used at a live event. The intricate 3d logo is CNC cut from modelling board. The 300mm deep logo had to be free standing and includes a discreet base. Once CNC cut it was constructed  together and the imperfections filled and sanded we spray painted the 3d logo to a brilliant white.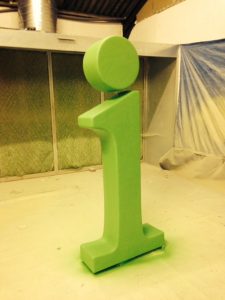 Giant letter "i" Free standing sign – Kingston University – Size 1.90m
We created the giant letter sign for Kingston University to use and to make an information point more visible and eye catching. Carved by hand out of polystyrene. Any imperfections sanded. Transparent acrylic strip fitted in between the letter and dot. Concrete weight support fitted at the bottom of the letter for stability. Application of Hard coating polyurethane to ensure the letter will be waterproof and will last. As a finish the giant letter was spray painted with the desired colour number.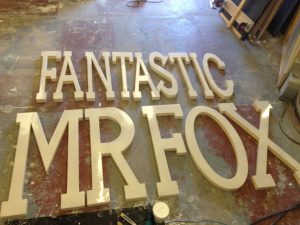 Custom letters – TR2 Theatre Royal Plymouth
We were commissioned by TR2 to create the  large 3d letters.
The letters were cut out from polystyrene, coated with FR polyurea and primed ready for TR2 to finish. The largest letters 1.6m high and the smaller 1.2m high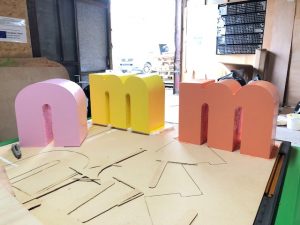 MUM Letters – PDS
We were commissioned by PDS to create the letters for special display.
The letters were CNC cut out of polystyrene with a front face with mdf.
Painted to the pantone colours supplied