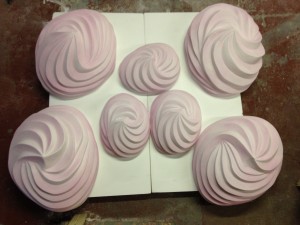 Giant meringues for Candy Cloud – Glennwood Tullamore
Approx dimensions: ranging from 0.8m to 1.20m in length. We custom made giant meringues for the unique confectionery concept Candy Cloud at Dublin Airport, to be suspended from the ceiling. The meringues are each individually carved from polystyrene. The look we tried to achieve is a natural flow of a real hand made meringue. Within each meringue is installed a stainless steel fixing system. After sanding and preparation meringues are coated with FR hard coating polyurethane. Primered and spray painted to the required delicate pink.
Giant popcorn for Candy Cloud – Glennwood Tullamore
Approx dimensions: 1.10m in length by 70cm Height We made 3 sets of giant popcorn for the unique confectionery concept Candy Cloud at Dublin Airport. The brief of this project was to make it look as realistic and proportional as possible. Popcorn was hand carved out of polystyrene, sanded to the right texture in preparation for hard coating. Exterior ply wood base at the bottom. Hard coating application FR polyurethane for durability and easy maintenance. Primered and airbrush decoration for realistic effect.
White Clouds – Installation for Cadbury World Cafe – The Atlantic group
Each cloud approx 1.50m x1.30m all varying shapes for realistic effect. We were commissioned by Atlantic Group to produce and install white fluffy clouds to help create an outdoor space inside for the new interiors of Cadbury world café.The white clouds were carved out of polystyrene, as they had to be lightweight. Fitted installation system within the clouds. Coated with fire retardant hard coating polyurethane to ensure a long life and this makes it easier to maintain. Painted with high quality lacquers and clear coat for finish.The clouds were then installed and suspended from the ceiling at their destination in Cadbury world café Birmingham.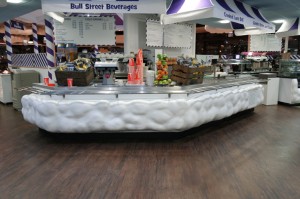 Sculpted 3d décor panel – Cadbury World Cafe – The Atlantic group
We custom-made these 3d décor panels to cover and to fit perfectly onto all the flat units in the Cadbury world cafe interiors.
Carved out of high density fire-retardant polystyrene, sculpted into the desired shape. Supported with aluminum plates, hard coating polyurethane application. To finish application of primer paint, white color + clear coat to ensure a long life and quality.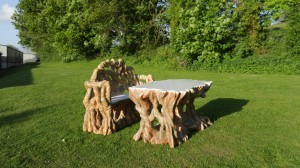 Garden furniture – Table and Bench
We created out of the ordinary garden furniture, carved and sculpted out of polystyrene to create a roots effect. Coated with hard coating polyurethane to ensure durability and to make it water proof.Table top sanded to a smooth perfection, with a white lacquer to finish.
Available to buy or hire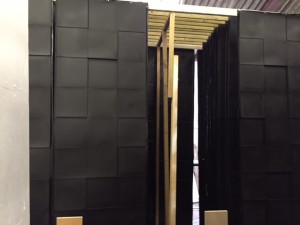 Bespoke cubed 3d wall panels – The Atlantic group
We were commissioned by the Atlantic group to create 60 bespoke 3d wall  panels. The material used to create the panels is FR polyurea, this material is impact resistant, water resistant and extremely durable. Panels measuring each at 2.70m by 810mm, each panel consisting of cubes with varying depth. We manufactured the bespoke 60 panels within an extremely tight schedule, within 3 weeks! Which makes us proud to achieve such a job at that scale within that time frame.  The panels will be used at the Lake Side restaurant and bar in Birmingham / Genting Arena, we cant wait to see these installed!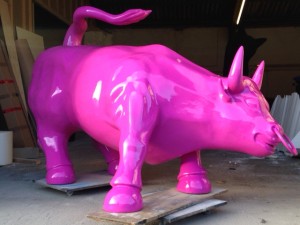 Quirky Pink Bull – Paragon Interiors – 2.3m in lenght
We were commissioned by Paragon Interiors to create a quirky pink bull to be installed at the new offices of Cooper parry in Birmingham.  The bright  eye catching sculpture was to be used  as a fun bespoke interior element. The  sculpture was shaped / hand carved  out of high density eps, scaled proportionally to required size. Coated with impact resistant / water proof FR polyurea. Sanding and preparation work for a smooth surface. Primer and topcoat colour spray painted.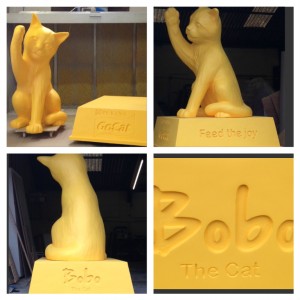 Bobo the cat sculpture – Nestle Purina pet care UK
We were commissioned by Nestle Purina to create an approx. 2m high cat sculpture of Bobo with a plinth. The statue like sculpture was hand carved from high density EPS. using a small clay model we created as reference, coated with FR polyurea coating. This coating makes the sculpture water and impact resistant. The base was created out of polystyrene with CNC engraved text at each side of the base. The base was also coated. Both the sculpture and the base have weight support installed for stability and they are separate pieces for ease of transport + mobility. After coating and surface preparation we primed the sculpture. Once this layer was fully dry we spray painted the sculpture with a special water based spray paint to a bright yellow! Bobo the cat sculpture is installed at Nestle Purina's UK office as a quirky bright  sculpture.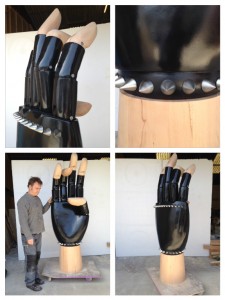 Bespoke Mannequin hand with moving wooden elements – Practical minds Ltd
We were commissioned by Practical Minds Ltd to create a bespoke piece for special window display for an incredible fashion designer. We created an over sized mannequin hand with movable fingers, and chrome effect studs.
The hand was made from a combination of materials, for the finger tips and base we used beech wood and the palm was carved from EPS, coated with FR polyurea and spray painted black. We created an inner structure to make the fingers position adjustable like a mannequin. The studs were created with a wood turner and then spray painted to a chrome effect.
Check out our blog to have a look at some images of process and completion!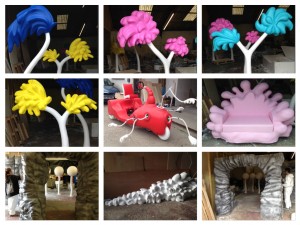 Discover Story Centre London – Dr Seuss Themed Elements
We worked with London's Story centre Discover to create colourful elements for their Dr Seuss themed fit out.
We created Colourful trees, The inner structure for the trufulla trees, a tunnel like cave, a sofa and a white bush.
The most important factor was to keep as close as possible to the iconic illustrations of Dr Seuss with Discover whilst being hard-wearing and practical.
It was a great pleasure to work alongside Discover on  their inspiring project.
Click here to view the full project + some interesting links!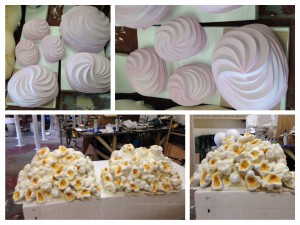 Candy Cloud – Kingdom of Bahrain – Havelock AHI W.L.L
We were commissioned by Havelock to create elements from  the award-winning concept of ARI's candy cloud at Bahrain's  duty-free store. We created lifelike although much larger in scale 3D meringues and giant popcorn. Both elements were hand carved out of polystyrene,   installed within a fixing system, coated with FR polyurea. Primed, spray painted and decorated to achieve a realistic effect. It was a pleasure  to work with Havelock AHI WILL
Hot air balloon model 800mm in diameter – St Austell Brewery
We were commissioned by St Austell Brewery based in Cornwall to create a scaled down version of a hot air balloon model to be used as a quirky eye-catching element for their interior display. The balloon was created from polystyrene, internal fixing fitted in for the suspending solution, coated with Fr polyurea water  and impact resistant coating. Once coated it was prepared for primer and top colour spray paint. Then the balloon was vinyl wrapped in the branding / colours of St Austell brewery. The basket was fitted to house the  brewery's finest beers  / ales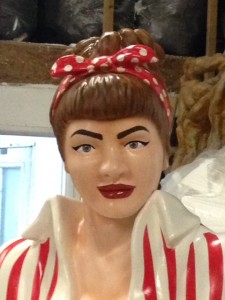 Retro 3d Model – Sam's Cornwall
We were commissioned by Sam's Cornwall to create the unique retro style sculpture. The sculpture was hand carved and made out of a combination of materials. Due to extra detail the face of the model was created out of high density polyurethane foam, the body hand carved out of polystyrene, steel pins inserted in weaker ares for extra strength. Coated with FR polyuria coating which is water / impact resistant. After sanding to smooth and preparation the model was primered and ready to decorate. The 3d model was spray painted + airbrush decoration in various colours as required. The vintage like sculpture is to be used as a menu board at Sam's Diner / St Austell Par a modern yet retro new restaurant http://samscornwalldiner.co.uk/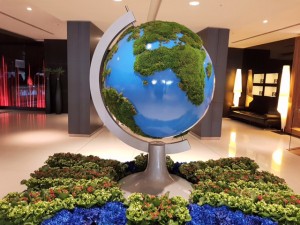 1.5m high Globe – Chic flower design
We were commissioned by Chic flower design to create the scaled up globe. We used a combination of material's to create the globe including EPS, polyurethane foam, fibreglass, ply and aluminium. Spray-painted to colour final creative live finish by Ami and her team.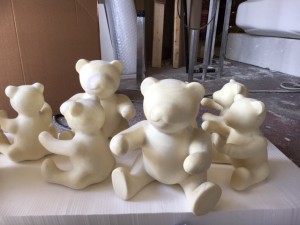 Teddy bears – Pull Brook and Gould
We were commissioned by Pull brook and Gould to create the teddy bears. We made 2 sizes, first we created master pieces carved by hand.
Once prepared we used the mould making technique to make following units.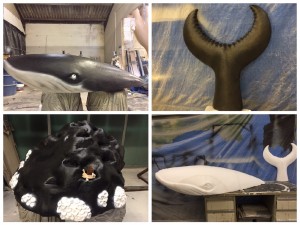 Whale and snail rock – Discover story centre London 
We were commissioned by Discover to create the scenic elements for their whale and the snail themed interior space at the story centre.
Both whale and the snail rock had to be true to the original illustration as possible. Both elements were hand carved from polystyrene. Once approved by client coated with FR polyuria ( water and impact resistant coating ) we then primed both elements and applied the base colours to them. Final decoration by Discover story centre London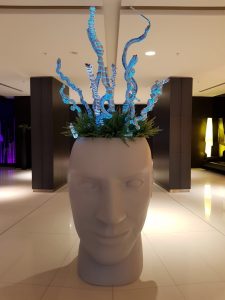 2.2m high 3d head planter – Chic Flower design
We were commissioned by Chic flower design to create  the large 3d head from polystyrene
Hand carved and coated with Fr polyurea.
Once coated and prepared the head was first primed then spray painted to top coat colour.