CNC Routing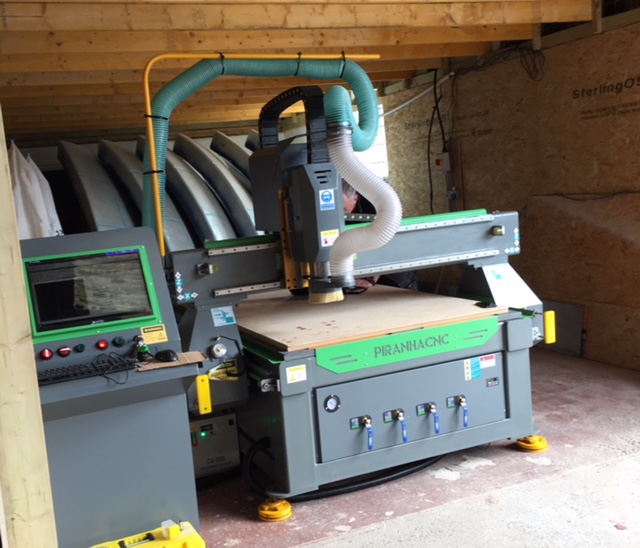 CNC routing is a great technology which enables us to be much more innovative & allows high precision with speed
 As well as using CNC routing for our own  projects we offer the CNC routing cutting service locally in Cornwall and nationally all accross the UK
The  materials we can cut are MDF, Plywood, Hardwood, Melamine Laminates, Solid Surface Materials, Foam core, Corrugated Plastic, Dibond, Aluminium / Soft Metals with a working area of  1300mm by 2500mm
Resolution Accuracy:  0.01mm/100mm
We can also prepare design files for the cutting which gives our customers more possibilities and an easier route in to getting the project done. These are the supported file  formats if you can provide design file DWG, DXF, EPS, AI, PDF, BMP, JPG, TIF, GI
We can create custom panels, new patterns,  bespoke signage, cut out large letters, 3d logos, elements for furniture, pre-cut the elements for our products such as the Christmas sleigh.
Get in touch with our friendly team  to see how we can help you!
Take a  look at the some of the CNC Routing we have done so far
ICA Creation LTD received funding in 2018 from the BIG2 Project funded from the ERDF as part of the European Structural and Investment Funds Growth Programme 2014-2020. The funding recieved has part funded the purchase & facility of CNC Router Piranha PRO1325 – Q7 this has enabled us to offer a new service aswell as growing our current capabilities and break into new national and European markets. This has also enabled us to create 1 new position within our workforce as we scale up with this new facility.
It is part-funded by the European Regional Development Fund