Bespoke themed interior Elements – Fitout projects
We love to help you create an inspiring space!
Recently we have been working with Nuttall, Westfield and Disney on an exciting interior fit out project to create Winnie the pooh themed bespoke Disney elements for their new family rooms at one of the largest urban shopping centres in Europe Westfield Shepherds bush. In total we created bespoke elements for 3 family rooms. We created artificial trees, fencing, bespoke signage, ipad holders, log seats, bubble tube stands, flowers, pumpkins, mirror and TV frames created from our rustic timber replica and all as realistic as possible with the benefit of being splinter free as true to Disney's Winnie the pooh illustration as possible
Take a look at full project with more images here 
White Clouds – Installation for Cadbury World Cafe – The Atlantic group
Each cloud approx 1.50m x1.30m all varying shapes for realistic effect. We were commissioned by Atlantic Group to produce and install white fluffy clouds to help create an outdoor space inside for the new interiors of Cadbury world café.The white clouds were carved out of polystyrene, as they had to be lightweight. Fitted installation system within the clouds. Coated with fire retardant hard coating polyurethane to ensure a long life and this makes it easier to maintain. Painted with high quality lacquers and clear coat for finish.The clouds were then installed and suspended from the ceiling at their destination in Cadbury world café Birmingham.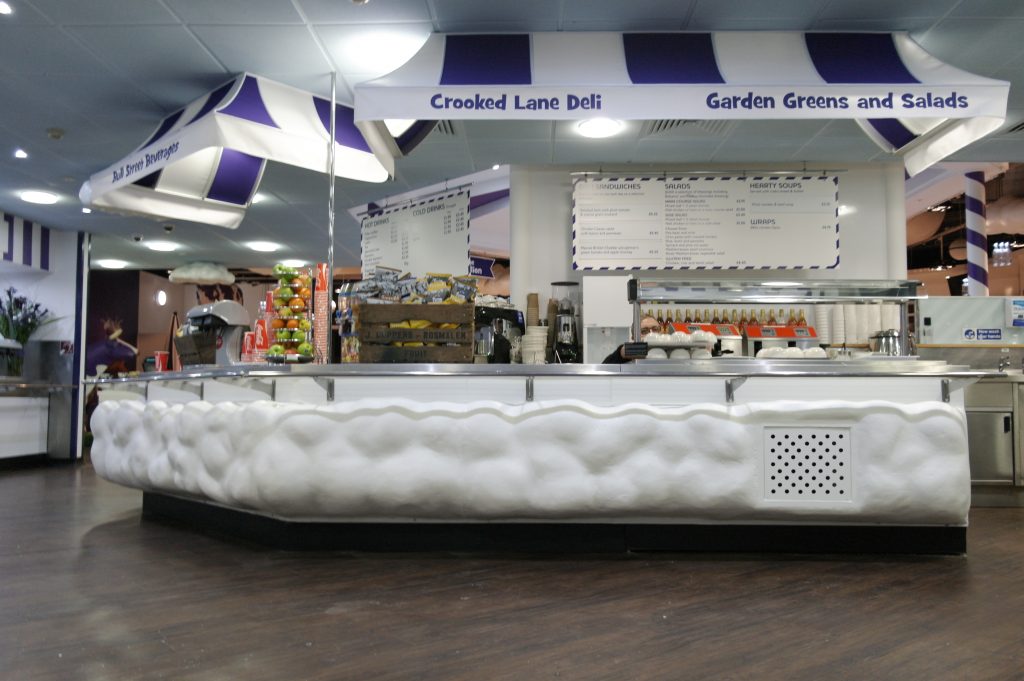 Sculpted 3d décor panel – Cadbury World Cafe – The Atlantic group
We custom-made these 3d décor panels to cover and to fit perfectly onto all the flat units in the Cadbury world cafe interiors.
Carved out of high density fire-retardant polystyrene, sculpted into the desired shape. Supported with aluminum plates, hard coating polyurethane application. To finish application of primer paint, white color + clear coat to ensure a long life and quality.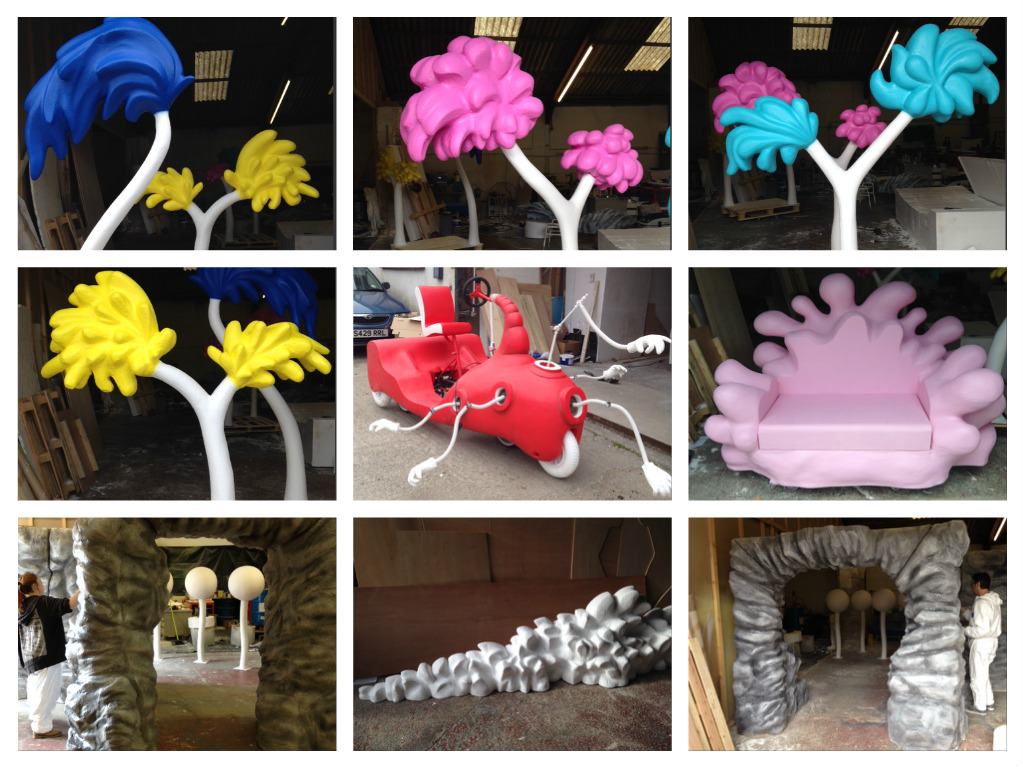 Discover Story Centre London – Dr Seuss Themed Elements
We worked with London's Story centre Discover to create colourful elements for their Dr Seuss themed fit out.
We created Colourful trees, The inner structure for the trufulla trees, a tunnel like cave, a sofa and a white bush.
The most important factor was to keep as close as possible to the iconic illustrations of Dr Seuss with Discover whilst being hard-wearing and practical.
It was a great pleasure to work alongside Discover on  their inspiring project.
Click here to view the full project
Whale and snail rock – Discover story centre London
We were commissioned by Discover to create the scenic elements for their whale and the snail themed interior space at the story centre.
Both whale and the snail rock had to be true to the original illustration as possible. Both elements were hand carved from polystyrene. Once approved by client coated with FR polyuria ( water and impact resistant coating ) we then primed both elements and applied the base colours to them. Final decoration by Discover story centre London
Take a look at full project and installed on site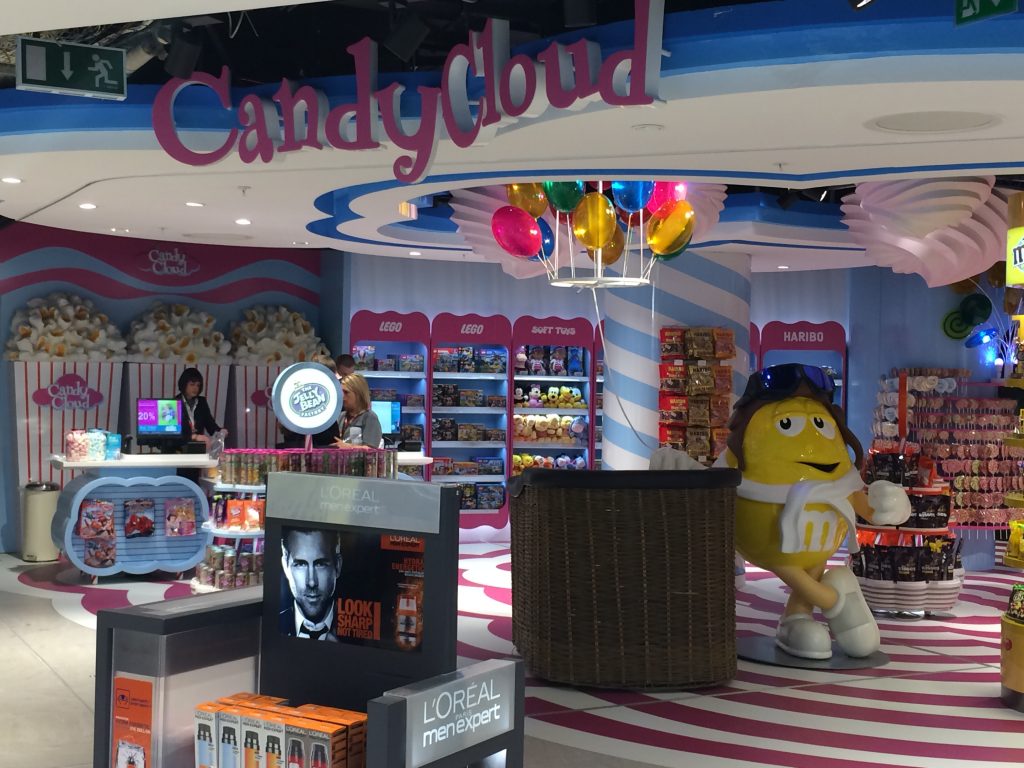 Giant meringues for Candy Cloud – Glennwood Tullamore – Dublin Airport
Approx dimensions: ranging from 0.8m to 1.20m in length. We custom made giant meringues for the unique confectionery concept Candy Cloud at Dublin Airport, to be suspended from the ceiling. The meringues are each individually carved from polystyrene. The look we tried to achieve is a natural flow of a real hand made meringue. Within each meringue is installed a stainless steel fixing system. After sanding and preparation meringues are coated with FR hard coating polyurethane. Primered and spray painted to the required delicate pink.
Giant popcorn dimensions: 1.10m in length by 70cm Height We made 3 sets of giant popcorn for the unique confectionery concept Candy Cloud at Dublin Airport. The brief of this project was to make it look as realistic and proportional as possible. Popcorn was hand carved out of polystyrene, sanded to the right texture in preparation for hard coating. Exterior ply wood base at the bottom. Hard coating application FR polyurethane for durability and easy maintenance. Primered and airbrush decoration for realistic effect
Take a look at full case study here
We were also commissioned by Havelock to create candy cloud elements from the award-winning concept of ARI's candy cloud at the Kingdom of Bahrain's duty-free store