Experimental & Spectacular Marketing
Realistic Trees – PDS – Virgin tree house
We were commissioned by Presentation Design Services to create artificial trees for the Virgin Holiday's African themed tree house installation in London's Southwark. We created 4 large tree trunks and several branches for the top section of the tree house .The main shape was carved from polystyrene and the texture applied was from a mould taken from real tree trunks which ensured we gained realistic visual results. We coated the trees with flexible hard coating polyurea for durability and to make the trees water proof. We first applied primer then top coat and paint decoration with water based paints as realistic effect as possible. The project was achieved at an extremely short time scale, we were ready for delivery within 3 weeks!
Giant hand – Surreal artvertising tool
The idea behind the concept was to create a giant surreal item and to combine advertising in a unique and fun way.The giant hand had to be proportional! whilst being weather proof and most importantly safely installed  on to our 6m trailer.Hand carved, coated with polyurea and airbrushed to create a realistic effect. For more details and to book get in touch info@ica-creation.sps-creativedesign.co.uk
Giant Cornish Pasty – Prima Bakeries – Size 5m x 2m
We created a giant pasty with a stand & installation for a trailer. We were commissioned by leading Cornish bakery Prima Bakeries. We created this giant prop carved and sculpted out of low density polystyrene, then we fitted a steel support system & galvanized steel stand for stability. Hard coating polyurethane, application for durability and to make it waterproof. To finish we applied primer paint & airbrush decoration for a realistic effect.
Giant Marmite lid – Splendid Communications – Size  1.70m Ø
We were commissioned by Splendid Communications to produce a giant Marmite lid to use at their Marmite fan campaign.This fun and unique prop was carved out of polystyrene, a layer of hard coating polyurethane was applied. To finish, airbrushed to replicate the real Marmite lid.
See campaign here http://www.marmite.co.uk/super-fans-donated-their-house-car-sheep-and-even-name
Giant Pants – Pants Cancers Charity  Size 2m x 3m
We created these giant pants including steel stand together with the Charity Pants Cancers for their campaign to raise awareness. We made this giant prop carved & sculpted out of polystyrene. With  a fitted  installation system to be fixed onto the galvanized steel stand. The prop was then coated with hard coating polyurethane to ensure it will be weather proof. Then to finish painted & airbrushed white to emphasize the lace effect.
EE's Charging Bull Glastonbury  – Presentation Design Services
We were commissioned by Presentation Design Services to create the bull. The sculpture had to be water proof, extremely durable and friendly looking. The bull was hand carved out of high density polystyrene. Steel rods inserted within the tail  for extra strength and timber blocks within hoofs for installation system. As the sculpture had to be weather proof we applied flexible coating polyurea and primered in order to prepare for a paintable surface.
Final finish was completed by PDS to  their clients  specification.
We are very proud to have completed this project at a very tight time schedule and have completed within a week! Just in  time for our client  to apply final finish.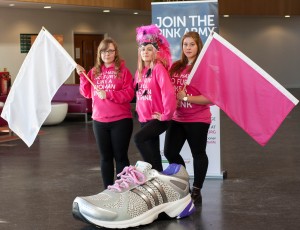 Giant trainer – Size 1.20m – Used at Race for life 2015
Cancer re-search used our giant trainer as an eye catching prop to help raise awareness of Race for life events among women of all ages. We created a giant trainer shoe with laces. This prop was carved and sculpted out of high density polystyrene. Hard coating polyurethane application. A combination of smooth and textured surfaces. Primer paint, variety of 2k  colors applied, giant laces for realistic effect to finish.
The PLB Group – The American Tourister giant suit case.
We were commissioned by the PLB group to create the scaled-up version of the suit case for their product launches across the UK. The giant suit case measuring at 2.5m high had to be realistic as possible. The replica was created from a combination of materials including EPS, CNC cut elements, FR polyurea coating, primer and spray paint + all details to make it look authentic.

Carex bubble face stand – Zeal creative
We were commissioned by Zeal creative to create the bubble face stand as a photo opportunity to at Alton towers. The stand is both promotional and a fun concept. The base was created with exterior ply and coated with polyurea. The hand soap bottle is carved out of EPS, coated with FR polyurea, spray painted to requested colours + vinyl application. The bubble face stands are made from aluminium with a exterior  ply frame, inside the frames acrylic + vinyl of the emoji faces. We used CNC cut templates to spray paint the promotional text and foot prints applied on the base.
Drip and pour liquid effect project –  Gasp Events – DaVinchi Gourmet sauce 
We were commissioned by Gasp events to create a pouring + drip effect of DaVinci gourmet sauce prop. The brief of the project was to make it as realistic, eye catching / bright and as practical as possible in order for perfect fit onsite.
Working with provided dims we hand carved the shapes from polystyrene, installed the fixing systems then coated with FR polyurea which is both water & impact resistant . Once coated the elements were prepared for spray paint in high gloss orange to give the liquid feel. The project was installed at DaVinci Gourmet exhibition in Amsterdam