Giant Pants – Production Process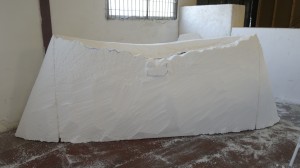 Brief: The brief was to create a giant pair of pants to maximize the impact whilst raising awareness of all cancers in the pants area. We had to create a classy pair of pants, which had to be durable, water proof and truly unique and most definitely eye catching for all the right reasons.
First step: Based on an actual lacy pair of pants, first we cut out the main shape out of polystyrene and connected the parts together.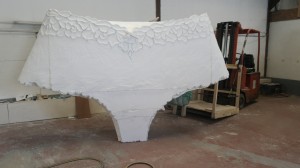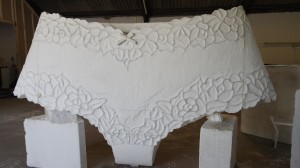 Second step: We shaped and sculpted, trimmed where necessary. We created a 3d lace effect as close as possible to the original pants. We installed an aluminum fitting at the bottom / inside of the pants ready for the stand later. The middle section was sanded to gain a smooth surface.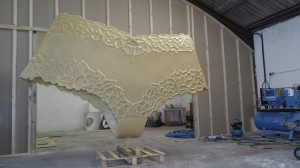 Third step: Once the desired effect and lace effect was created, we spray applied hard coating polyurethane. This application will ensure that the giant pants  will be water-proof and suitable for many out-door events. Due to the high-tech performance of this process, within minutes after application, we could start to paint and decorate the prop.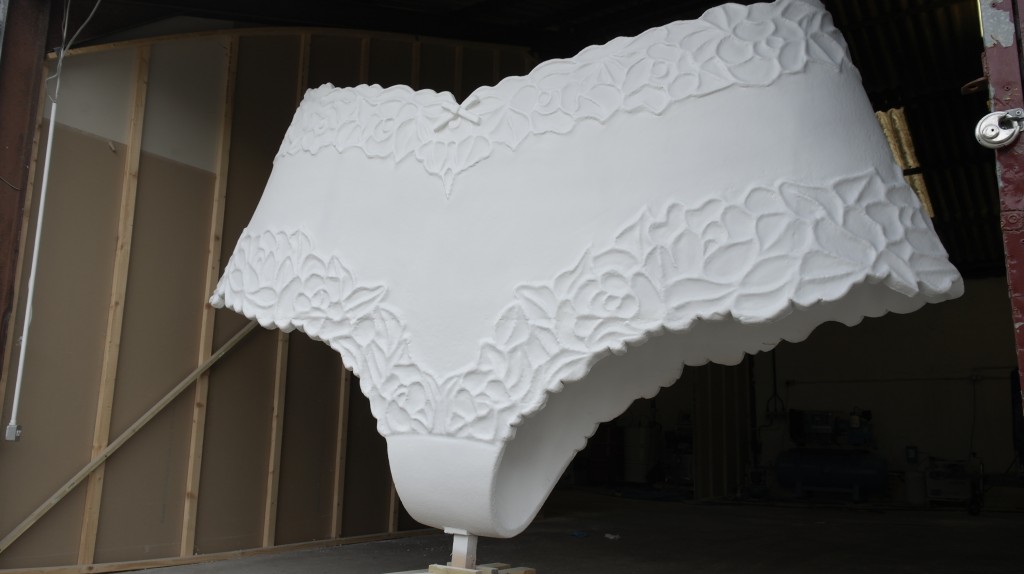 Final Step: We airbrushed the giant pants white, also airbrushed the lace in extra white to emphasize the effect. After the galvanized steel stand was especially fabricated, the prop was  ready to be taken on Pants Cancers events to help  raise the much needed awareness.
Get in touch today to discuss your ideas &  to see how we can help you achieve your concept  info@ica-creation.sps-creativedesign.co.uk  or call us on 0044 (0)1872- 271275